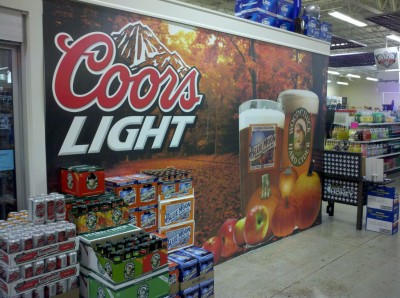 Digital printing equipment distributor LexJet extended its contract with Distributors Solutions to serve as a preferred print shop supplier for brewing company MillerCoors through March 2017.
The contract renewal was based on LexJet's service, support, pricing, product selection—including software and inkjet-printable materials—and timely delivery to MillerCoors' distribution network of print shops that produce its advertising and branding graphics (examples pictured).
"LexJet was chosen as a preferred vendor based on its competitive pricing, record of outstanding customer service and enthusiasm for the program," says Ali Comeaux, general manager (GM) of Distributors Solutions.
"We will continue to bring value to the network and find new and innovative ways for our customers to drive more sales at the point of purchase (POP)," says Jason Metnick, LexJet's vice-president (VP).
Since Lexjet and Distributors Solutions began working together in 2007, they have provided digital printing systems not only for Miller and Coors, but also for other large beverage distributors.
"Our relationship has been extremely beneficial and worthwhile," says Mike Duka, graphic designer for United Distributors. "LexJet has lowered our costs and sped up product delivery times, while providing a wider selection of products."