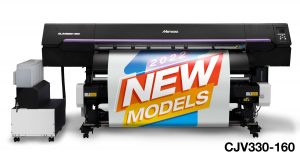 Invest in your business with Mimaki's new CJV330-160 print & cut device. Time-saving and effortless, it's the ultimate solution for your high-quality sign and graphic needs. Compatible with Mimaki's original eco-solvent inks, this print & cut device offers commercial-level workflows and quality for high-demand print businesses.
The CJV330-160 can produce a wide range of sign and graphic applications, including durable banners, signs, decals, and posters for internal and external use. Featuring an advanced media changer, eight vibrant colors, and Mimaki Remote Access, this printer is your ultimate production machine. With Mimaki's CJV330-160, you'll never print & cut another way again.
"Sponsored" material is supplied by the sponsor. The publisher cannot assume responsibility for any errors of relevance, fact or omission. Hosting sponsored material does constitute endorsement of the sponsor.