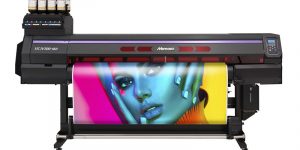 The Mimaki UCJV300 Series delivers an extensive array of applications that are instantly cured, making it possible to laminate and/or cut immediately after printing.
This is unlike other inkjet technologies that typically require slower processing to accommodate for drying or outgassing. Its durable ultraviolet light-emitting diode (UV-LED) printing and cutting eliminates the need for an additional finishing step, ensuring higher throughputs and shorter turnarounds. Additionally, UV-LED inks offer less ink consumption per square foot of coverage and more image vibrancy. The UCJV300 Series ink performance brings the versatility of white with the quality, stability, and reliability of an original Mimaki solution.
"The UCJV300-160 is our first Mimaki printer," said Trylea's Mirabel, Quebec owner Vincent Trépanier. "This model stood out to us because of its UV-LED capabilities, including its ability to print with white and clear inks. No other brand is currently providing this technology on roll-to-roll printers. Through the research I've done, Mimaki has the best colour offerings and usability with UV-LED inks."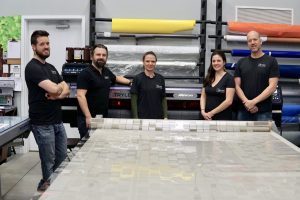 The UCJV300 Series can create point-of-purchase (POP) displays, labels, stickers, banners, window clings, vinyl wraps, and more. It is available in 812, 1092.2, 1371.6, and 1625.6 mm (32, 43, 54, and 64-in.) print widths. Visit mimakiusa.com/UCJV300Series to learn more.
All information listed in this section was submitted by Mimaki USA.
Kenilworth Media Inc. cannot assume responsibility for errors of relevance,
fact or omission. The publisher does not endorse any products featured in this article.