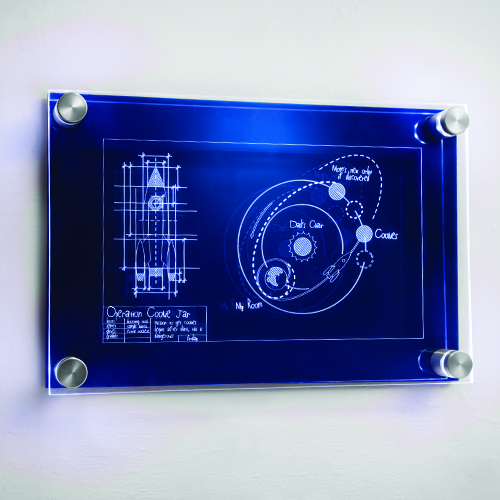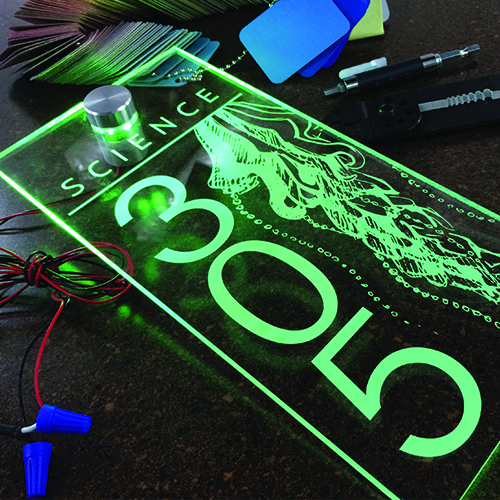 "Where have these been all my life?" is what everyone asks when they see Gyford's light-emitting diode (LED) standoffs for the first time. The modified mounting systems can help create illuminated signage and displays.
Since these standoffs were introduced, they have been used for illuminated room numbers, directories and lobby signs for corporate office locations. The barrels are custom-made in the U.S. to accommodate side-firing LEDs which, when powered, illuminate etched or routed acrylic and glass.
The secret to success with these standoffs is choosing the correct type of material to illuminate. Cast acrylic works best with laser etching, as the material will turn white where the laser burns it, so the etching will be clearly visible even when it is not illuminated.
Before mounting the etching to a wall or other surface, the user will want to route holes in the acrylic to about 20 mm (0.8 in.), which will allow the LED board to 'float' inside the acrylic, without touching the barrel, spacer or cap. This way, all of the mounting pressure is taken by the acrylic, not by the LED board.
The hardware may be purchased in Canada from ComSign Architectural Signage. For more information, visit www.standoffsystems.com/comsign or call toll-free (888) 452-9019.
All information listed in this section was submitted by Gyford.
Kenilworth Media Inc. cannot assume responsibility for errors of relevance,
fact or omission. The publisher does not endorse any products featured in this article.