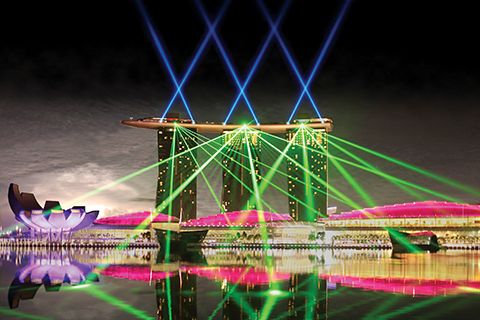 When Singapore's Marina Bay Sands Resort opened in 2011, it represented the world's most expensive stand-alone casino property, costing approximately $6 billion U.S. Instead of projecting videos onto the resort's three towers or the Skypark that tops them, however, water vapour from the bay itself serves as the focal point for a nightly public light show.
Reinforcing the resort's position as a primary leisure destination, the multimedia show—the largest of its kind in Southeast Asia—combines water cannons, light-emitting diode (LED) illumination, fireworks, lasers and an original 13-minute symphonic score to tell the story of life and humanity. Projected video and motion graphics metaphorically trace life from childhood to old age.
"The show is designed to make us stop, take stock of our lives and appreciate the natural beauty and wonder around us," says Michael Leven, former president and chief operating officer (COO) of Las Vegas Sands, which owns the resort (he recently became president and CEO of the Georgia Aquarium).
The production took more than three years to develop, between technology design, presentations and government approvals.
"There are challenges because this is a 360-degree show around the bay," says Paul McCloskey, CEO and founder of Laservision Mega Media, which produced the show. "You have media in front of, behind, above, below and beside you both left and right. You are basically inside a 3-D fantasy, with the media enveloping you, so you become immersed in the experience."
The equipment behind the show includes seven projectors that illuminate the water vapour 'screens,' 15 laser systems, 30 moving searchlights, 250,000 LEDs illuminating the buildings, spotlights, strobes and pyrotechnics.
The show has already been seen by millions of visitors and residents and rated one of Asia's top new tourist attractions.