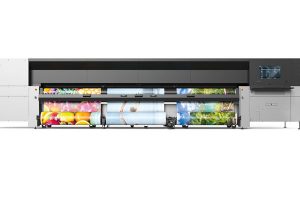 Durst is once again setting the benchmark in the top class of digital large-format printing. Under the motto "production excellence," the new Durst P5 500 and Durst P5 Double 4 Technology were introduced at FESPA 2022.
The Durst P5 platform is expanded with the addition of the P5 500, offering a super wide format with a printing width of 5.25 m (17.22 ft). Media handling plays a key role in ensuring productivity even in this dimension. For this purpose, Durst offers roll support for loading and changing media. The rolls can be processed in single, dual and triple mode, in dual mode even asymmetrically. Double-sided printing is achieved via exact front and back registration. Durst offers additional options for finishing, these include knives for horizontal and vertical cutting.
Durst P5 Double 4 presents an interesting further development for new and existing customers. A second CMYK print head row is optionally installed in the P5 UV printing systems, enabling double the productivity to be achieved. The option is available on the P5 350/HS and P5 210/HS.
Our innovative printing solutions exceed in every printing environment, from pixel to output.
"Sponsored" material is supplied by the sponsor. The publisher cannot assume responsibility for any errors of relevance, fact or omission. Hosting sponsored material does constitute endorsement of the sponsor.