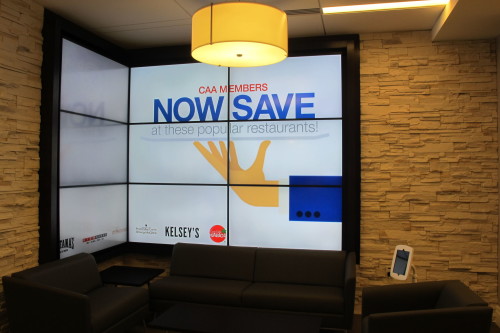 Following a successful 'wrap-around' video wall deployment at a new concept store that opened in April 2015 in Burlington, Ont., the Canadian Automobile Association's (CAA's) South Central Ontario (SCO) club has now rolled out the same technology at other branches.
By way of example, a 492-m2 (5,301-sf) CAA store in Peterborough, Ont., recently reopened after undergoing a two-month makeover. Improvements to the redesigned store include a nine-screen, corner-mounted video wall and three separate digital displays. Customers can sit back in a living room and take in the view while waiting to speak with the store's employees.
"We are proud to unveil a new retail experience for our members and customers," said Kathy Kelly, CAA SCO's director of sales and distribution, at the grand opening earlier this year.
Another store in Toronto's Scarborough region, meanwhile, was not only redesigned, but also relocated farther east to Pickering, Ont. Following two months of construction, the new 322-m2 (3,463-sf) store opened with the same approach to warm ambience—including a fireplace—to bring customers in and draw their attention to a corner video wall and three portrait-mode digital displays.
"The move from Scarborough is the result of countless hours of planning, design and building," said Kelly. "We welcome members to the new store as their home away from home."
CAA SCO operates 34 retail locations in total. All of them are equipped with basic digital signage, but most do not yet feature video walls.