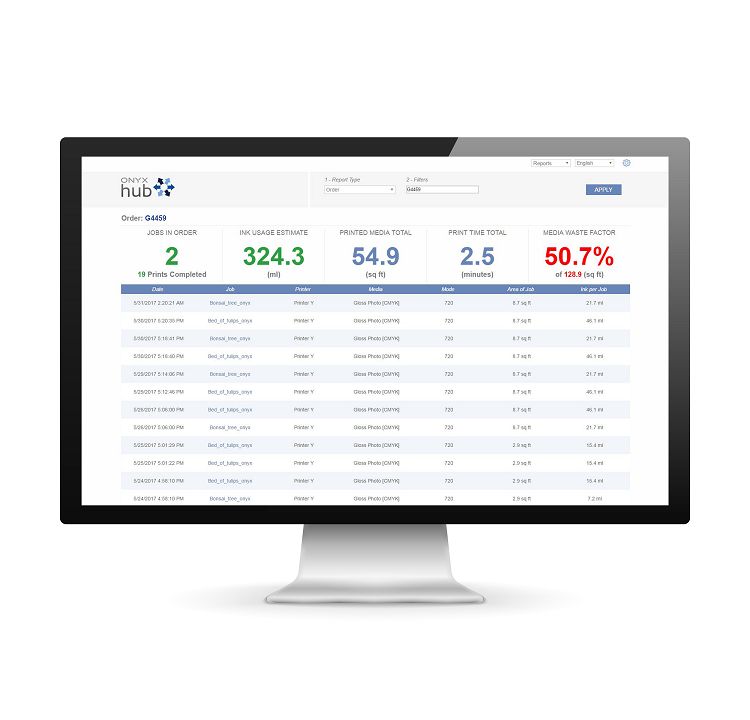 Onyx Graphics is proud to announce its award-winning ONYX Hub software will be demonstrating trending data and a better understanding of costs at Booth #2435 at the Specialty Graphic Imaging Association (SGIA) Expo.
Onyx Graphics is offering free passes to the expo, which will take place from Oct. 10 to 12 in New Orleans, La., allowing visitors to directly experience ONYX Hub, which won SGIA's Product of the Year Award for Best Software.
More than 222 entrants competed for the awards this year, representing the largest field of competitors in the program's history.
"This was the best years for entries I can remember," says Ray Weiss, SGIA's awards co-ordinator, who explains the competition was tight. "In addition to the sheer volume of competitors, the product quality was outstanding. Onyx Graphics's award was well-earned!"
ONYX Hub is a business intelligence (BI) tool with a browser-based dashboard that provides easy-to-understand data across an entire print service provider's (PSP's) site, enabling better business decisions. It collects data by job, station and printer and presents it in real time, for immediate visibility into the shop's production environment.
With up-to-the-minute and historic ink use and media waste reporting, PSPs can better understand their costs, improve profitability and diagnose areas for increased efficiency. With ONYX Hub software, they gain additional insight using trend reporting to optimize workflow and better manage their business.
To learn more about award-winning ONYX Software visit, www.onyxgfx.com/four-time-award-winning-software-2017 and for a free SGIA pass, visit www.onyxgfx.com/overview/events-2.
All information listed in this section was submitted by Onyx Graphics.
Kenilworth Media Inc. cannot assume responsibility for errors of relevance,
fact or omission. The publisher does not endorse any products featured in this article.