ADA-compliant signage with Mimaki
by carly_mchugh | 13 March 2023 12:01 am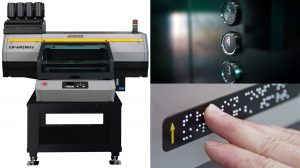 [1]There is more to Mimaki's UJF-6042 MkII e than just high-quality prints. This state-of-the-art, flatbed, ultraviolet (UV) inkjet printer can also help bring customers into Americans with Disabilities Act (ADA) compliance.
Equipped with automated braille printing technology, the UJF-6042 MkII e creates braille dots using raised clear ink, meaning printing braille is not just for engravers anymore. With Mimaki's UJF Series, you can unlock a new revenue stream by offering custom signage to your existing customers. UV printing is the fastest and most cost-effective way to bring their building signage into compliance.*
Learn more about the UJF Series[2] and other Mimaki printers.
*Check your local laws, as ADA compliance varies from region to region.
Endnotes:
[Image]: https://www.signmedia.ca/wp-content/uploads/2023/03/CM_Mimaki_BN.jpg
UJF Series: https://www.mimakiusa.com/ujf-series/
Source URL: https://www.signmedia.ca/ada-compliant-signage-with-mimaki/
---