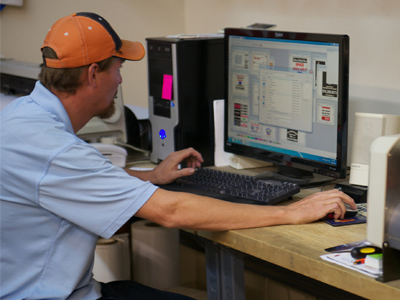 By Gudrun Bonte
Even in a buoyant market, running a signmaking business of any size comes with challenges. Among the constant reminders of this are customers' expectations to have their jobs produced faster and more cheaply than ever before. Another is the uncertainty of predicting what level and type of work will come through the door.
Indeed, these are age-old problems for the sign industry. In a world where more and more business is being handled 'on the move,' however, away from the office and with an expectation of instant access to information, sign shop owners and managers may well wonder if and how they can stay abreast of daily operations without being rooted to their production room floor.
This worry is understandable. In comparison to other businesses, the main focus of signmaking is still on the physical hardware it uses. Nevertheless, software has been developed over the years to facilitate and improve the efficiency of sign production.
Cloud-based software allows these applications' many features to be stored online and delivered conveniently to signmakers' desktop and notebook computers, complemented by companion apps for tablet computers and smartphones. Users can access simple text layout and vinyl cutting capabilities, generate job quotes and reports and store new files in the cloud. Sign shop owners can monitor production while they are out of the office, benefiting from constant connectivity with the workplace, in much the same way as e-mail and consumer apps keep people connected in their personal lives with their families and friends.
While cloud computing may have received a lot of hype in recent years, the benefits have already been real for thousands of sign shops in terms of increasing their flexibility and, in some cases, transforming the way they conduct business.
On-demand tools
The rise of cloud computing has revolutionized the traditional models of purchasing
software, with the introduction of more convenient subscription options. Given the aforementioned uncertainty about the level and consistency of orders from customers, the ability to pay for software as and when required eliminates significant capital investments for sign businesses and, over the long term, will allow them to reduce ongoing operational costs.
So, instead of committing to a large, one-off purchase by picking up a business or technical software package off the shelf in a bricks-and-mortar store, which also entails higher production and distribution costs for the suppliers of such products, signmakers can now simply download software from the cloud for graphic design, raster image processor (RIP) functionality, wide-format printing, digital cutting and other production tasks. By opting for monthly subscriptions, they will benefit from always running the
latest versions or iterations of that software. This is also the case when automatic updates are included in the price.
In terms of flexibility, though, the strongest advantage of the cloud-based subscription model is the ability to accept last-minute customer orders and respond to new business opportunities by purchasing and deploying new software immediately and, if appropriate, only for short periods.
For all of these reasons, accessing signmaking software via the cloud is proving increasingly popular across the industry.
Responding to today's demands
As mentioned, these innovations are helping signmakers transform their businesses and how they work with their customers, achieving a host of benefits.
Once a job is loaded into the cloud, for example, they can present it to a customer using a notebook computer when visiting that customer's office—and even make final changes right there with the customer's immediate approval. As such, it becomes possible to start the actual sign production work remotely, before the owner or sales representative even gets back to the sign shop.
Some signmakers will also access jobs in the cloud from home, so they can manage their daytime schedules and tweak designs at the most convenient times. Further, once a job has been started, they can use their mobile apps to check the live production status when off-site with the customer—or even make that information accessible directly to the customer through a dedicated web portal.
In addition to ease of access to data across various workstations and mobile devices, storing jobs in the cloud also adds stronger security. Off-site backups of data become simpler when storing files in multiple locations and online.
Setting new benchmarks
So, while cloud computing itself is an essentially simple concept, it has the potential to change the nature of how suppliers and customers do business. In the sign industry, greater acceptance will lead to the development of further improvements in customer-to-signmaker communications. And as creative and innovative users of cloud-based software deliver higher levels of customer satisfaction, there will be opportunities to establish best practices and benchmarks for self-improvement.
With more development of cloud-based software applications specifically for the industry, signmakers can get the most out of their existing hardware and processes. In an always changing and challenging market, these tools will help them meet—and stay one step ahead of—the needs of their customers.
Gudrun Bonte is a product director for SAi, which develops cloud-based Flexi software for the sign industry. For more information, visit www.thinksai.com.